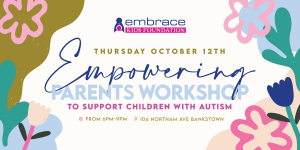 Workshop Itinerary:
Understanding ASD: Delve into ASD's traits and challenges. Demystify myths and misconceptions.
Early Recognition and Intervention: Spot early signs of ASD. Harness the power of early intervention.
Communication and Social Mastery: Amplify communication skills. Cultivate social bonds and emotional expression.
Behaviour Mastery and Sensory Harmony: Navigate sensory sensitivities. Address challenging behaviours and craft a sensory-friendly home.
NDIS Knowledge and Advocacy: Master NDIS funding and goals. Optimise funds for your child's well-being.
Cultivating Independence and Life Skills: Foster essential life skills. Chart transitions across life stages.
Emotional Well-being and Self-care: Navigate parental stress and forge support networks. Prioritise self-care for your well-being.
Q&A Session: Parent & Professional Panel Extract personalised insights from engaged parents and experts.
Workshop Materials: Practical take-home strategies. Recommended resources, websites, and support groups for ongoing guidance.
Throughout this workshop, parents will glean invaluable insights and actionable strategies, cultivating deeper connections and understanding with their children on the autism spectrum. Together, we're nurturing a haven that empowers parents to stand as champions for their children.
Seize this incredible opportunity to refine your parenting skills and positively influence your child's developmental journey. Secure your spot now.